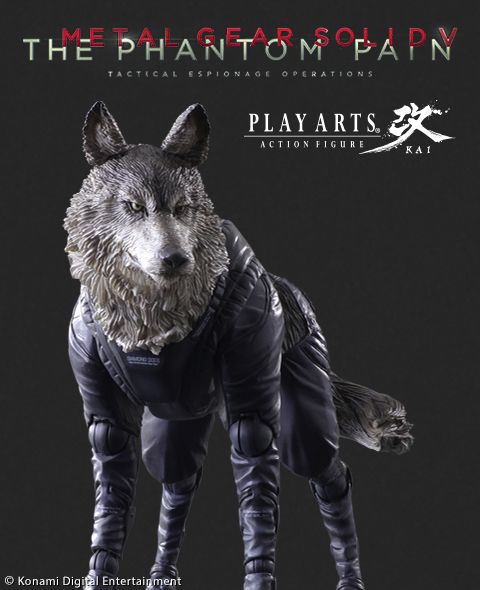 Metal Gear Solid V: The Phantom Pain is the latest instalment in the Metal Gear series and brings vastly expanded tactical freedom with a new, open-world design.
Some of the major showpieces are the infiltration missions where you are assisted by a partner and Snake's most loyal partner has to be the canine D-Dog! This figure captures his tough and noble bearing with a shape that embodies both lithe agility and power and fine sculpting and colouring to really bring out the texture of his fur. The figure is fully articulated to allow for a wide range of poses, from a low, stalking stance tracking his quarry like a wolf to more loveable dog poses doing tricks like "sit" and "shake hands".
D-Dog looks perfect stood next to Snake with their matching sneaking suits and includes accessories such as alternative heads with an eye patch or goggles and various weapons he can equip by gripping them in his mouth.
Copyright: © Konami Digital Entertainment
Complete, fully painted PVC action figure
Packaging details:
Windowed package with flap.
Includes special PLAY ARTS KAI figure stand.
Dimensions
W 70mm× D 240mm × H 105mm approx.
Weight: 260g
Includes special PLAY ARTS KAI figure stand.
Accessoires :
Baton holster
Sheath
Knife
Stun baton
Alternative heads
Alternative lower jaws
| | |
| --- | --- |
| Released | 16-01-16 |
| Genre | PlayArtsKai |
| SKU | XMGSSZZZ32 |