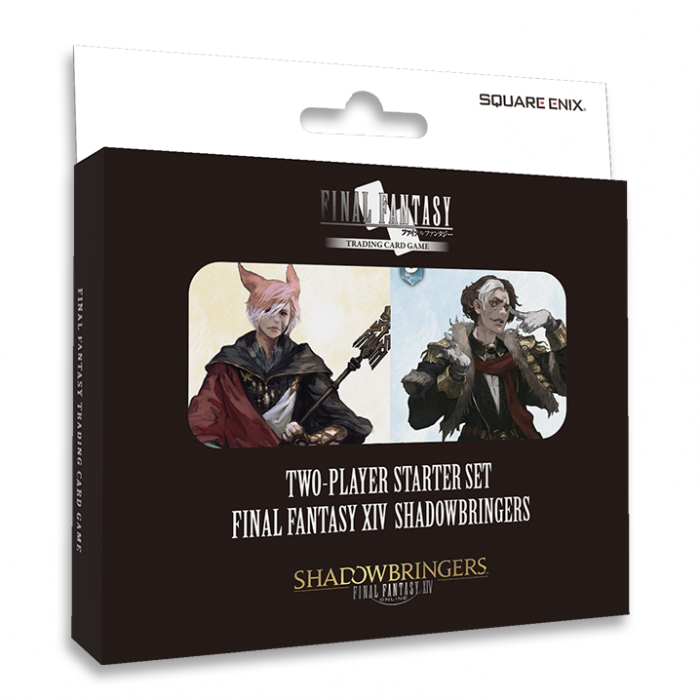 Final Fantasy XIV ist ein Populäres MMORPG welches Weltweit vertreten ist. Das Thema dieses Sets ist die letzte Erweiterung, "Shadowbringers", welche vor kurzem ihren neuen Höhepunkt erreicht hat. Die 2 enthaltenen Decks umfassen ein Erde/Blitz Deck, welches sich auf die Mitglieder der Exegeten wie Thancred and Urianger fokussiert, und ein Feuer/Eis Deck welches sich auf die Bösewichte aus "Shadowbringers" stützt.
Geschaffen, um direkt Spielbereit zu sein, ist dies das neuste Set der ZWEI-SPIELER STARTER SET Reihe!
Jedes Deck in dem Starter-Set enthält je 15 komplett neue Starter Karten (Jeweils 3 Karten für 5 Charaktere), für insgesamt 30 neue Karten. Von diesen werden zwei Karten als Premium Full Artwork Karte enthalten sein (Karten welche keinen Rahmen um Namen und Text haben), dies sind [13-133S] Der Kristallexarch und [11-131S] Emet-Selch. Diese Karten werden einen höheren Wert für Sammler haben als herkömmliche Karten.
Spielzeit: 20min
Empfohlenes Alter: 13+
Für weitere Informationen siehe:
https://fftcg.square-enix-games.com
Hier findet ihr uns auf Facebook:
https://www.facebook.com/fftcgeurope/
© SQUARE ENIX CO., LTD. All Rights Reserved. FINAL FANTASY, SQUARE ENIX, and the SQUARE ENIX logo are registered trademarks or trademarks of Square Enix Holdings Co., Ltd.
■Set Inhalt
Vorgefertigtes Deck 1 (Erde/Blitz): 50 Karten
Vorgefertigtes Deck 2 (Feuer/Eis): 50 Karten
Schnellstart Guide: 2

■ Starter Karten ■
Deck 1 (Erde/Blitz)
[13-133S] Der Kristallexarch
[13-134S] Y'shtola
[13-135S] Urianger
[13-136S] Thancred
[13-138S] Das Orakel des Lichts

Deck 2 (Feuer/Eis)
[13-129S] Philia
[13-130S] Ran'jit
[13-131S] Emet-Selch
[13-132S] Titania
[13-137S] Innozenz
| | |
| --- | --- |
| Release Date | 2021-02-19 02:00 |
| SKU | XFFTCZZ155 |