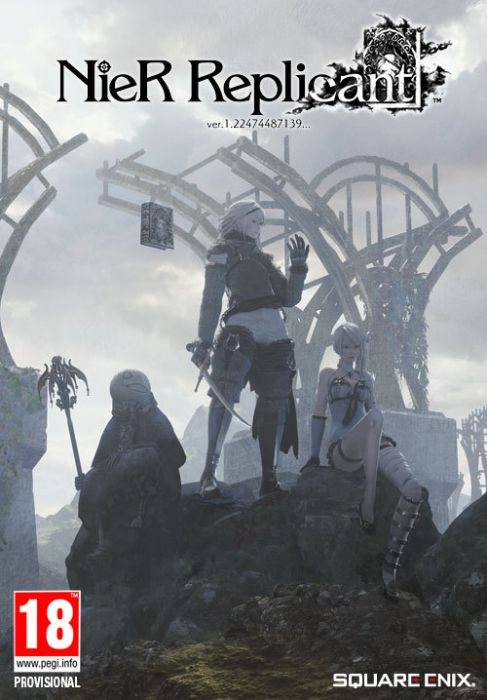 OVERVIEW
NieR Replicant ver.1.22474487139... is an updated version of NieR Replicant, previously only released in Japan.
Discover the one-of-a-kind prequel of the critically-acclaimed masterpiece NieR:Automata. Now with a modern upgrade, experience masterfully revived visuals, a fascinating storyline and more!

The protagonist is a kind young man living in a remote village. In order to save his sister Yonah, who fell terminally ill to the Black Scrawl, he sets out with Grimoire Weiss, a strange talking tome, to search for the "Sealed verses."

Experience the NieR Replicant story for the first time in the west through the eyes of the protagonist as a brother.

The original all-star team returns including acclaimed director, YOKO TARO (Drakengard / NieR:Automata), composer Keiichi Okabe (TEKKEN / Drakengard / NieR:Automata), and producer Yosuke Saito (DRAGON QUEST X / NieR:Automata).

STORY
In a distant, distant future, humanity is on the brink of extinction.
A black scrawl disease and strange beasts threaten the world.
A young kindhearted boy makes a promise to his little sister.
A thousand-year lie that would live on for eternity...

© SQUARE ENIX CO., LTD. Tous droits réservés. Développé par Toylogic Inc.
NIER REPLICANT est une marque de fabrique ou une marque déposée de Square Enix Co., Ltd. SQUARE ENIX et le logo SQUARE ENIX sont des marques de fabrique ou des marques déposées de Square Enix Holdings Co., Ltd.
Découvrez la vérité qui se cache derrière le monde de NieR et préparez-vous à tout remettre en question au cours de cette histoire sombre et sinueuse.
Voyagez à travers un monde en ruine, ravagé par la maladie et de monstrueuses horreurs aux côtés d'un groupe d'alliés improbables.
Une bande originale emblématique et fascinante réenregistrée par le compositeur de NieR:Automata, Keiichi Okabe.
Combattez des ennemis épouvantables à l'aide d'un mélange viscéral de combat à l'épée et de magie personnalisable.
Personnalisez les sorts, les compétences, et les armes de votre personnage grâce au pouvoir des qualificatifs.