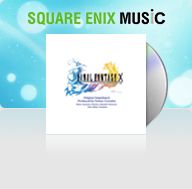 Final Fantasy X remains loved and supported by its fans to this day, so many years since the original release. We are proud to present the original soundtrack to this ground-breaking, classic RPG, gathering together all of its wonderful music and leaving out none of the excitement.
This definitive album includes important pieces in the history of game music such as 'Zanarkand' and RIKKI´s 'SUTEKI DA NE' (Isn´t It Wonderful ). Sit back and enjoy the many timeless melodies of Final Fantasy X.
© SQUARE ENIX CO., LTD. All Rights Reserved.
Zenbu Hanashite Okitainda
Zanarkand
Prelude
Tidus´s Theme
Otherworld
Run!!
This Is Your Story
Creep
Battle Theme
Victory Fanfare
Game Over
Out Of The Frying Pan
Leap In The Dark
Underwater Ruins
Oui Are Al Bhed
Enemy Attack
The Blitzers
Besaid
Spira Unplugged
Hum Of The Fayth
Phantoms
The Trials
Hymn - Valefor
The Summoning
Braska´s Daughter
Good Night
Yuna´s Theme
Movement In Green
The Sending
Calm Before The Storm
Hymn - Ifrit
Luca
Grand Maester Mika
Decision On The Dock
The Splendid Performance
Face off
Blitz Off!
Auron´s Theme
Mi´ihen Highroad
Chocobo Jam
The Travel Agency
They May Pass
Seymour´s Theme
Twilight
Djose Temple
Hymn - Ixion
Ridess The Shoopuf
Rikku´s Theme
Guadosalam
Thunder Plains
Jecht´s Theme
Macalania Woods
The Void
The Temple Players
Seymour´s Ambition
Hymn - Shiva
Pursuit
The Burning Sands
Peril
The Truth Revealed
Launch
The Wedding
Assault
Tragedy
Believe
Via Purifico
Hymn - Bahamut
Moment of Truth
Patricide
SUTEKI DA NE (Isn´t It Wonderful )
Yuna´s Decision
Lulu´s Theme
Bravely Forward
Hymn - Yojimbo
Servants of the Mountain
Hymn - The Ronso
Wandering
A Fleeting Dream
Hymn - Yunalesca
Challenge
Beyond The Darkness
Gloom
Hymn - Spira
The Unsent Laugh
Fight With Seymour
Hymn - Anima
A Contest Of Aeons
Final Battle
Ending Theme
Omoidashite Kudasai
SUTEKI DA NE (Isn´t It Wonderful ) Orchestra Version
| | |
| --- | --- |
| Released | 15-08-13 |
| Publisher | Square Enix |
| Genre | OriginalSoundtracks |
| SKU | XFF10ZZZ00 |