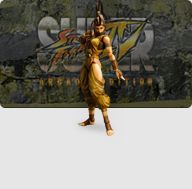 Two new characters from the smash hit fighting game Super Street Fighter IV make their debut in the Play Arts KAI range; Guile, a soldier out to avenge his fallen comrade and Ibuki, a high school girl from the hidden ninja village!
Ibuki A young ninja girl with many dreams
A high school girl who lives in the hidden ninja village.
Although she has trained in ninjutsu since a very young age, inside Ibuki is really just a normal teenage girl. She goes on a journey to meet someone special and gets mixed up in unexpected troubles.
All of Ibuki´s charming features such as her determined expression, traditional yet feminine clothing and her beautiful hair bound in a high topknot have been thoroughly reproduced.
Care has been taken to align the figure´s articulated joints with the lines of Ibuki´s kimono and hakama like clothing so as not to obstruct its balance.
Includes kunai accessories and an alternative head to recreate Ibuki´s brave demeanour in battle.
© CAPCOM CO., LTD. 2012 ALL RIGHTS RESERVED
Dimensions: W 90 x D 70 x H 250 mm
Weight: 179g
| | |
| --- | --- |
| Released | 15-08-13 |
| Genre | PlayArtsKai |
| SKU | XSF04ZZZ09 |