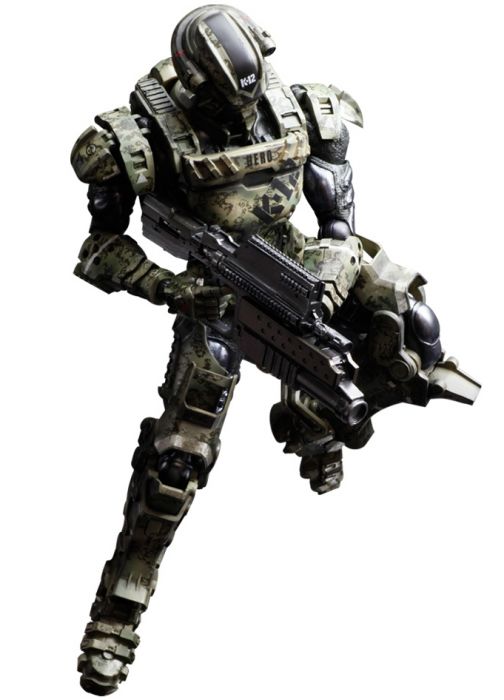 From Director Shinji Aramaki´s CG animation film 'Starship Troopers: Invasion,' the young commander 'Hero' makes his appearance in the PLAY ARTS KAI action figure line.
Hero (Major Henry Varro)
Major Henry 'Hero' Varro is the former commander of the K-12 troopers.
He was incarcerated for insubordination by Minister of Paranormal Warfare, General Carl Jenkins. Even after his arrest, the K-12 troopers still regarded Hero very highly.
We have carefully recreated the form and the details on the sharp edges of the power suit.
By implementing our unique paint application method, we were able to show the depth , three-dimensionality and details of the camouflage.
There is an interchangeable grenade launcher attachment included in the accessories to expand the range of battle poses!
There are aesthetic details added into the knee joints, enabling kneeling poses without looking awkward.
We took great care in giving each part of the back of Hero´s armor the proper definition so that we do not take away his design, accentuating the dynamic lines of his form.
© 2012 Sony Pictures Worldwide Acquisitions Inc. All rights reserved.
Product size & spec
W 105mm × D 80mm × H 254mm weight 220g
Fully articulated and colored PVC action figure
Package
Window package with cover flap
Includes PLAY ARTS KAI display stand
| | |
| --- | --- |
| Released | 15-08-13 |
| Genre | PlayArtsKai |
| SKU | XSTTRZZZ00 |