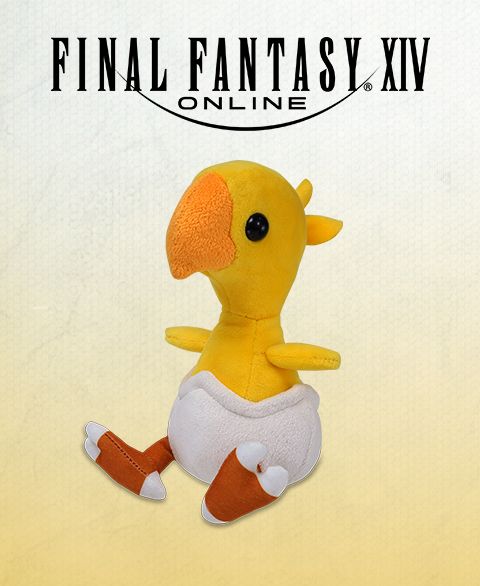 The Wayward Hatchling from FINAL FANTASY XIV Online returns in the form of an adorable plush toy!
Includes bonus item code: Wayward Hatchling Lamp!
© 2010 - 2015 SQUARE ENIX CO., LTD. All Rights Reserved.
Product Size: Approx. 180mm
Material:
Body - Polyester/ABS
Filling – Polyester/PET
Bonus Item
■ Redeeming Your Bonus Item
The bonus code included in this package can be used to redeem the in-game item
Hatchling Lamp in FINAL FANTASY XIV.
The hatchling lamp is an indoor furnishing.
Once placed, this item can no longer be traded.
The following may also result in loss of certain parts and furnishings:
The removal of said item by another player.
Leaving or being discharged from the free company.
Unsharing an estate.
The demolition of an estate.
A service account for FINAL FANTASY XIV: must be registered to your Square Enix account in order to use this bonus item code.
If you have yet to register a service account, please visit the official website for details.
(http://www.finalfantasyxiv.com/)
The bonus item code can only be redeemed once.
Once registered, the bonus item code cannot be removed from your service account.
The bonus item code is a string of 20 alphanumeric characters.
Please be sure to enter your bonus item code accurately when prompted to do so.
Please do not lose this bonus item code, as a replacement code cannot be issued.
The bonus item code is valid until December 31, 2018.
To register a Square Enix account, please proceed to the Square Enix Account page.
http://www.square-enix.com/na/account/
http://eu.square-enix.com/en/seaccount/
For questions, please proceed to the Square Enix Support Center.
NA: http://sqex.to/WXr
GB: http://sqex.to/rJA
| | |
| --- | --- |
| Released | 20-02-16 |
| Genre | Plush |
| SKU | XFFPLZZZ15 |