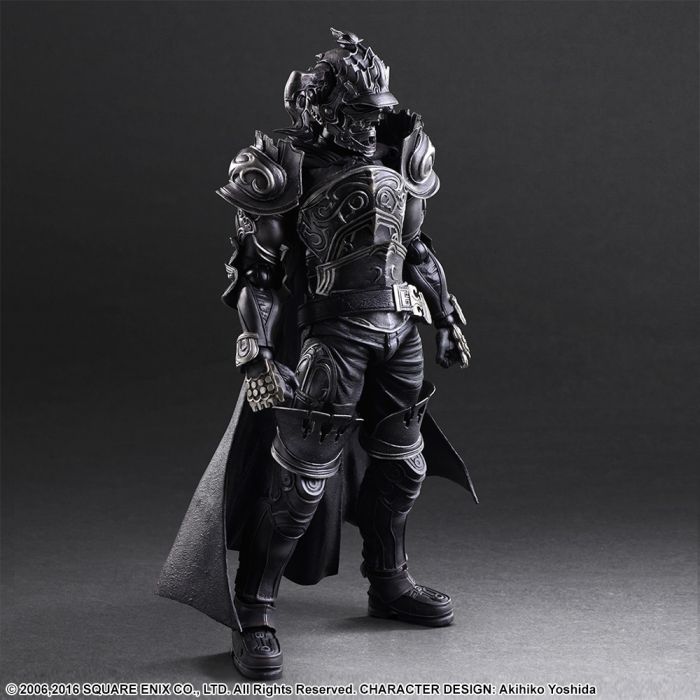 Judge Gabranth stands out even among the dread ranks of his order. The design of this figure was carefully considered to recreate his mighty visage, capturing Gabranth's gravitas and presence as a member of the Arcadian Empire's elite military force.
Its crowning achievement is the way the sculpting perfectly depicts weight and heft of his armoured shell, while the engraving work on the plates gives him a mysterious intensity and air of threatening nobility.
The figure's colouring reproduces the unique way light falls on worn armour, with a distinctive blunt shine and dulled lustre to produce a realistic tone.
Every aspect of this figure, from the carefully considered design of the articulation, with ball and socket joints in the pauldrons and softer materials used for the cape and body sections, to the freedom of posing offered by interchangeable parts, points to a passion for pushing the boundaries of what action figures can be.
■Articulée en PVC de Gabranth dans /FINAL FANTASY XII Fully-painted and articulated PVC action figure
■Package: window box with flap
■PLAY ARTS KAI Display Stand included in package
■
Dimensions
Approx. W195 mm x D60 mm x H280 mm
Weight: 450g
■
 Accessories
:
- 2 épées
- 5 mains alternatives
Shipment may take longer if the parcel contains an import product and faces delays due to customs and duties.
Also, please be aware of potential release date changes which shall be updated on the website.
© 2006,2016 SQUARE ENIX CO., LTD. All Rights Reserved. CHARACTER DESIGN: Akihiko Yoshida
| | |
| --- | --- |
| Released | 2016-12-15 00:00 |
| Genre | Action Figure |
| SKU | XFF12ZZZ13 |