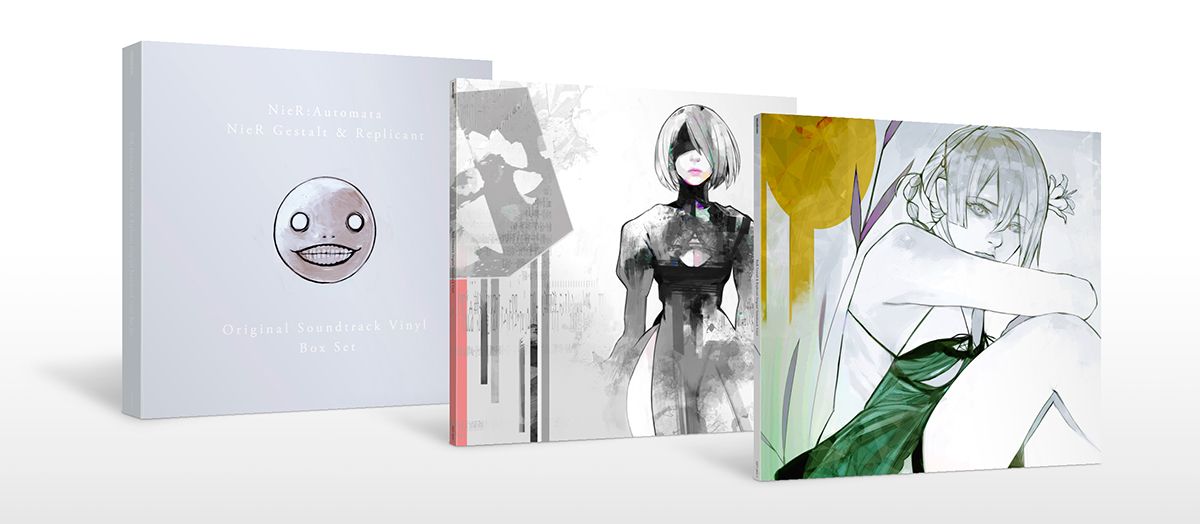 Relive the haunting music from NieR with this exclusive box set featuring four vinyl LPs with a variety of tracks (35) selected by series composer Keiichi Okabe, as well as beautiful illustrations from Tokyo Ghoul illustrator Sui Ishida.


Release date is approximate.

Shipment may take longer if the parcel contains an import product and faces delays due to customs and duties.
Also, please be aware of potential release date changes, which shall be updated on the website.
NieR Gestalt & Replicant Original Soundtrack Vinyl
A-1 Snow in Summer
A-2 Hills of Radiant Winds
A-3 Song of the Ancients / Devola
A-4 Gods Bound by Rules
A-5 Dispossession / Piano Ver.
B-1 Grandma
B-2 Blu-bird
B-3 The Wretched Automatons
B-4 Kainé / Salvation
B-5 Deep Crimson Foe
B-6 Yonah / Pluck Ver. 1
C-1 The Dark Colossus Destroys All
C-2 Cold Steel Coffin
C-3 Emil / Karma
C-4 Temple of Drifting Sands
C-5 Song of the Ancients / Fate
D-1 Shadowlord's Castle / Roar
D-2 Emil / Sacrifice
D-3 Shadowlord
D-4 Ashes of Dreams / New
NieR: Automata Original Soundtrack Vinyl
A-1 City Ruins - Rays of Light
A-2 Birth of a Wish
A-3 End of the Unknown
A-4 Vague Hope - Cold Rain
B-1 Amusement Park
B-2 A Beautiful Song
B-3 Pascal
B-4 Mourning
C-1 Peaceful Sleep
C-2 Alien Manifestation
C-3 The Sound of the End
D-1 Copied City
D-2 Dependent Weakling
D-3 Bipolar Nightmare
D-4 Weight of the World English Version - J'Nique Nicole


| | |
| --- | --- |
| Release Date | 2021-04-30 00:00 |
| SKU | XOSTRZZZ46_preorder |