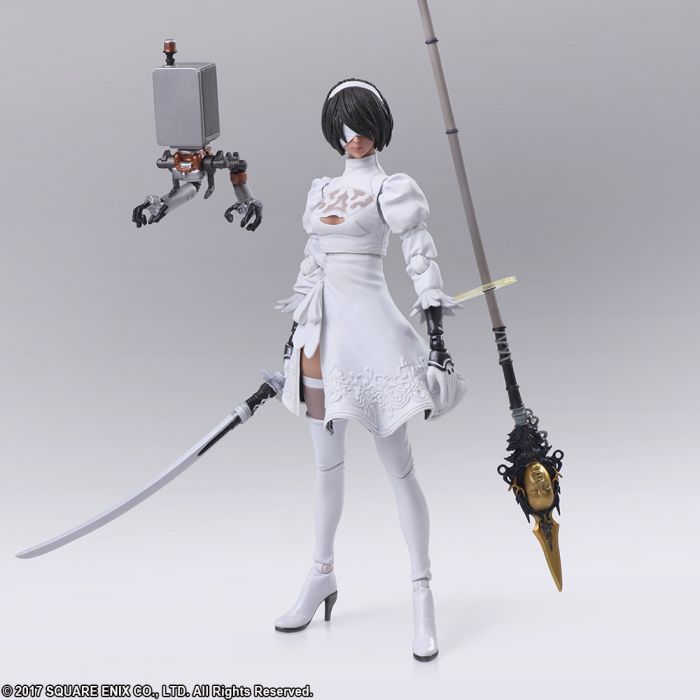 Now available from Bring Arts, an entirely newly modelled and uniquely coloured version of YoRHa No.2 Type B (a.k.a. 2B).

Taking its proportions directly from the in-game 3D model, this figure features sun-browned skin, black hair, and a striking white costume for a brand new take on the original.

She comes with a host of accessories, including three interchangeable faces, seven interchangeable hands, an articulated pod, a black box, a torso part to replicate self-destruct mode, and four weapons: Virtuous Contract, Virtuous Treaty, Cruel Arrogance, and Cruel Lament, which can be mounted on the included pedestal.

Release date is approximate. Shipment may take longer if the parcel contains an import product and faces delays due to customs and duties. Also, please be aware of potential release date changes which shall be announced on the website.

© 2017 SQUARE ENIX CO., LTD. All Rights Reserved.
■Dimensions: Approx. W 54.5mm x D 48.5mm x H 142mm Weight: 40g
   *Total weight including accessories: 83g
■Materials: PVC, ABS

© 2017 SQUARE ENIX CO., LTD. All Rights Reserved.