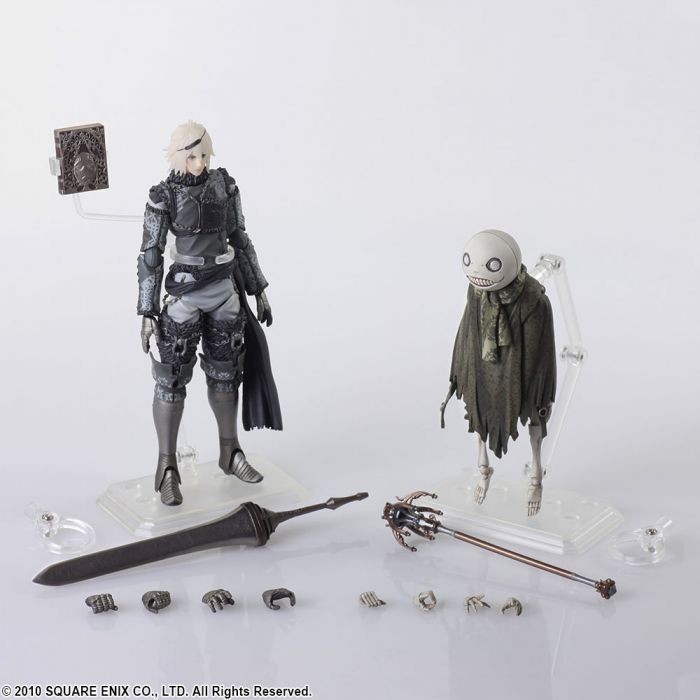 From NieR Replicant - the story of a brother and sister fighting to survive a future world falling into ruin - comes this two figure set of Nier, the young protagonist, and his companion, the experimental weapon No. 7, Emil.

These figures boast extreme attention to detail, from the colouring and lustre of the materials used to the patterns on their clothing.
Included with Nier are the Grimoire Weiss (mountable on the stand), a two-handed sword, and four hands.
Emil comes with a stave and four hands.

Mount him on the included stand to make it look as though he's floating in mid-air, evoking the feel of the game.
Bring the world of the game to life with the severe and gallant Nier and the creepy-but-cute Emil, capturing their in-game presences perfectly.

■Dimensions:
  Nier:  Approx. W 63 mm × D 24.3 mm × H 160 mm  Weight:  106g
 Emil: Approx. W 52 mm × D36.6 mm × H 116 mm  Weight:  59g

Copyrights: © 2010 SQUARE ENIX CO., LTD. All Rights Reserved

Release date is approximate. Shipment may take longer if the parcel contains an import product and faces delays due to customs and duties. Also, please be aware of potential release date changes which shall be announced on the website. 
| | |
| --- | --- |
| Released | 2020-01-22 00:00 |
| SKU | XNIERZZZ31 |