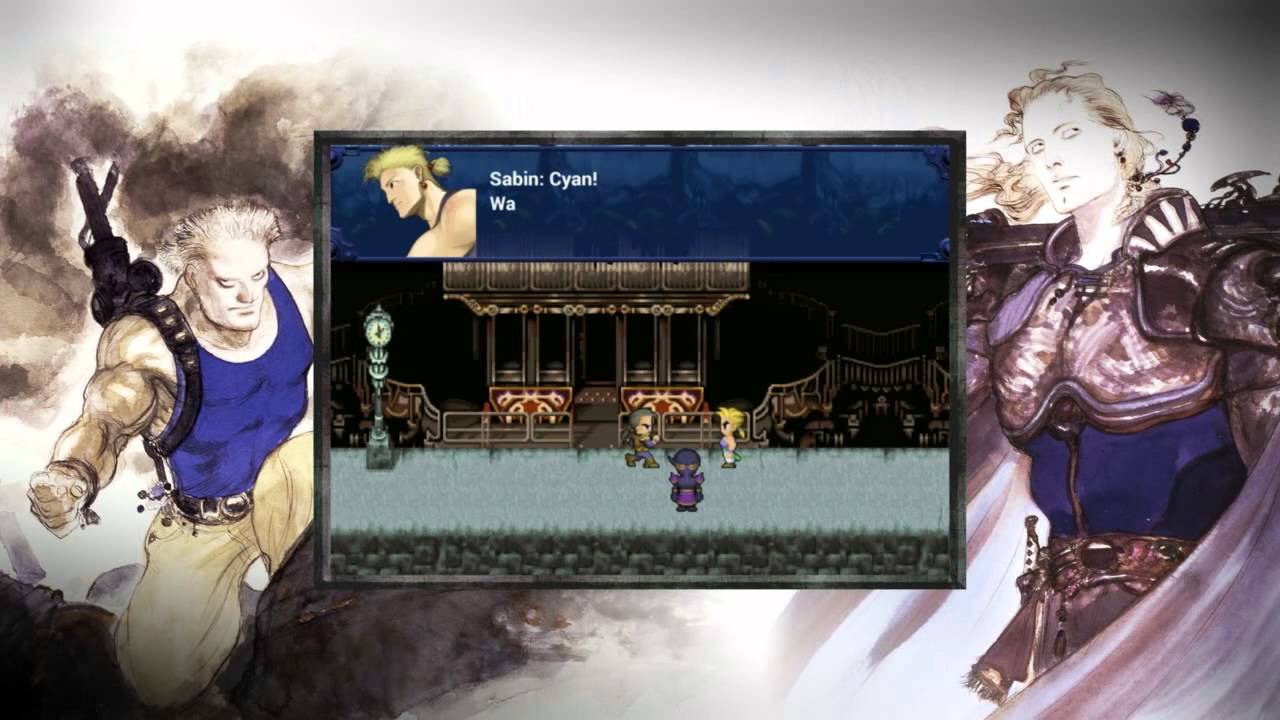 FINAL FANTASY VI
, sixième opus de la saga des FINAL FANTASY, est sorti pour la première fois 1994, proposant à l'époque plusieurs innovations telles que la possibilité d'incarner tous les personnages principaux du jeu. Cette aventure épique, où se rencontrent les destins de tous ces personnages, demeure à ce jour un immense succès auprès des critiques et du public.Grâce au choix de nombreuses compétences ainsi qu'au système des magilithes, permettant de maîtriser sorts et chimères, les joueurs peuvent développer leurs personnages comme bon leur semble. C'est aussi dans ce jeu que la fameuse Épée Ultima, d'une puissance incomparable, fait sa première apparition dans la saga.
L'histoire:
La guerre des Magi n'avait laissé que cendres et misère dans son sillage. La magie elle-même avait déserté le monde. Un millénaire plus tard, l'humanité a rebâti une civilisation en s'appuyant sur le fer, la poudre, la vapeur, la mécanique et la technologie.
Pourtant, une jeune fille a su redécouvrir l'art perdu de la magie. Prisonnière du maléfique empire qui entend exploiter ses dons à des fins guerrières, Terra va croiser la route d'un jeune homme répondant au nom de Locke. Ensemble, ils parviennent alors à fuir de justesse les griffes impériales, déclenchant une série d'événements qui bouleverseront nombre de vies et mèneront à une conclusion aussi épique qu'inévitable.
Note: veillez à activer l'anti-aliasing FXAA lorsque vous jouez dans les résolutions suivantes:
• 1280 x 768
• 1280 x 720
• 1042 x 768
• 1042 x 600
• 848 x 480
• 800 x 600
• 800 x 480
• 720 x 576
• 640 x 480
©1994, 2006, 2014, 2015 SQUARE ENIX

Illustration/©1994 YOSHITAKA AMANO
FINAL FANTASY VI, SQUARE ENIX and the SQUARE ENIX logo are registered trademarks or trademarks of Square Enix Holdings Co., Ltd.
La grande Kazuko Shibuya, l'une des artistes ayant travaillé sur la série FINAL FANTASY depuis ses premiers balbutiements, s'est chargée des personnages principaux et a supervisé la recréation des graphismes de cette version de FINAL FANTASY VI, disponible sur PC pour la toute première fois !
FINAL FANTASY VI offre des commandes et un système de combat plus intuitifs pour une meilleure jouabilité sur PC.
Inclut des succès et des cartes à collectionner Steam.
OS : Windows Vista / 7 / 8 / 8.1
Processeur : Pentium 4 2.4 GHz
RAM : 2 Go
Espace disque : 950 Mo 
Video : N/A
Son :N/A
DirectX® :Version 10
| | |
| --- | --- |
| Released | 16-12-15 |
| Platform | PC Download |
| Developer | SQUARE ENIX |
| Genre | RPG |
| Languages | English, French, Italian, German, Spanish, Russian, Brazilian Portuguese |
| SKU | 2060 |