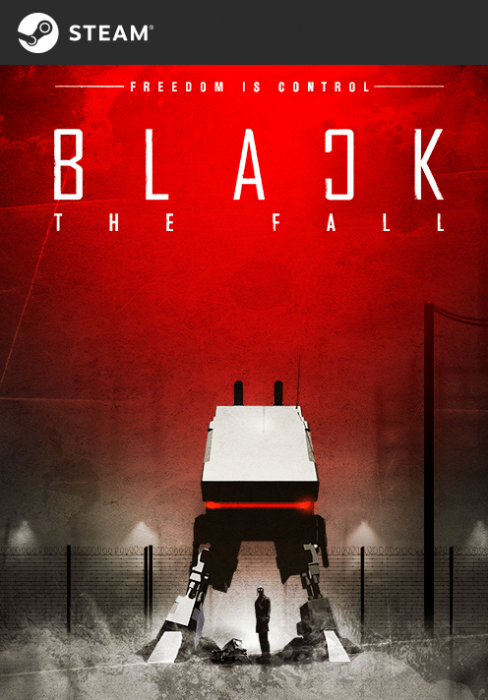 Lassé de longues années de dur labeur, un vieil ouvrier décide de fuir l'oppression du régime communiste. Avec pour seules armes son ingénuité, ses réflexes et ses supercheries, il lutte à travers passages secrets, ténèbres et douleur. En chemin, il se lie d'amitié avec une créature des plus improbables, un petit robot abandonné. Parviendront-ils à résoudre les casse-tête et à s'échapper ensemble de ce monde si morne ?

Black the Fall©2017 Sand Sailor Srl. Tous droits réservés. Développé par Sand Sailor Srl. Édité par Square Enix Limited. BLACK THE FALL, SAND SAILOR et le logo de SAND SAILOR logo sont des marques déposées ou des marques de fabrique de Sand Sailor Srl. SQUARE ENIX, le logo de SQUARE ENIX, SQUARE ENIX COLLECTIVE et le logo de SQUARE ENIX COLLECTIVE sont des marques déposées ou des marques de fabrique de Square Enix Holdings Co. Ltd.
Résolvez les casse-têtes enfouis dans l'atmosphère oppressante d'une dictature dystopique.
Manipulez hommes et machines à l'aide d'un puissant outil volé.
Liez-vous d'amitié d'un robot perdu et solitaire et gagnez sa loyauté.
Saisissez votre chance de renverser un état communiste inspiré de faits réels.
CONFIGURATION MINIMUM
Operating System: Windows 7/8/10
Processor: Intel i7 920 @ 2.7 GHz, AMD Phenom II 945 @ 3.0 GHz
Memory: 3GB
Hard Disk Space: 4GB
Video: GeForce GTX 550 Ti, 1 GB / Radeon R7 250, 1 GB
DirectX®: 11

CONFIGURATION RECOMMANDEE
Operating System: Windows 7/8/10
Processor: Intel Core2 Duo E8400, 3.0 GHz / AMD Phenom II X4 940, 3.0 GHz
Memory: 8GB
Hard Disk Space: 4GB
Video: NVIDIA GTX 680, AMD Radeon R9-280X
DirectX®: 11


| | |
| --- | --- |
| Released | 11 juillet 2017 |
| Platform | PC Download |
| Developer | Sand Sailor Studio |
| Genre | Puzzle |
| Languages | Anglais, français, italien, allemand, espagnol, coréen, russe, portugais, roumain |
| SKU | BTFPCDLEN01 |