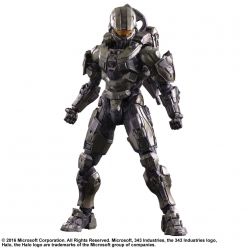 Master Chief
The Halo series takes place in a hypothetical future in which mankind has achieved light-speed travel, advancing into space. Master Chief is a legendary soldier hailed for his role in defending humanity in its darkest hours. The armor damage and weathering of his Mark VI MJOLNIR powered suit brings to mind all the battles he has fought. Our artists have put great care into making the beauty of the sculpt and paintwork shine. They have realistically recreated the Chief's heroic stature based on actual in-game design materials, achieving a heightened quality which the collector is bound to enjoy. Master Chief's MA5D Assault Rifle and M6H2 Magnum can not only be held by the figure, but also be holstered by attaching them to the armor. Also included with the figure is an interchangeable helmet with the cracked visor, to complete the immersion into the latest chapter of the Halo saga.
© 2016 Microsoft Corporation. All Rights Reserved. Microsoft, 343 Industries, the 343 Industries logo,
Halo, the Halo logo are trademarks of the Microsoft group of companies.
Product size
Approx. W 127mm xD 65mmxH 270mm, Weight 410g
Accessories
■ Packaging
Window box with flap
PLAY ARTS KAI display stand included in package
■ Accessories
Interchangeable head & hands
Magnum
Assault riffle
Connecting pin for guns
| | |
| --- | --- |
| Released | 16-06-16 |
| Genre | PlayArtsKai |
| SKU | XHALOZZZ18_UK |