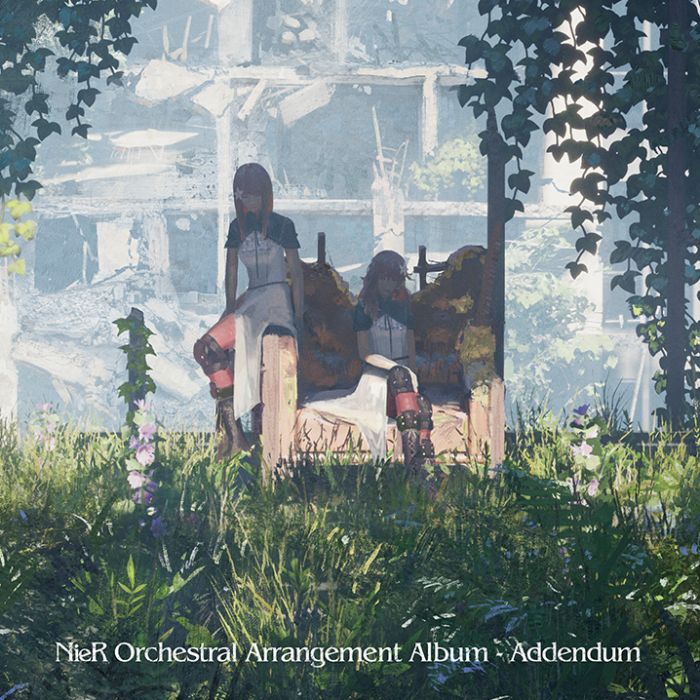 Celebrate the 10th anniversary of the NieR series with this new soundtrack CD!

To commemorate the 10th anniversary of NieR Gestalt and NieR RelpliCant in 2020, a new orchestral soundtrack CD will be released.
The tracks will be carefully selected from the in-game music of NieR Gestalt, NieR RepliCant and NieR: Automata.
On top of the orchestral versions, some tracks will feature vocals by Emi Evans and J'Nique Nicole.

Please enjoy the gorgeous music of NieR in this anniversary edition CD.
NieR Orchestral Arrangement Album - Addendum Track List

1. Ashes of Dreams (Emi Evans & J'Nique Nicole Vocals)
2. Emil (Addendum version)
3. Deep Crimson Foe
4. Song of Ancients (Emi Evans & J'Nique Nicole Vocals)
5. Kaine (Addendum version)
6. City Ruins (Addendum version)
7. A Beautiful Song (Emi Evans & J'Nique Nicole Vocals)
8. Copied City
9. Crumbnling Lies - Front
10. Weight of the World (Emi Evans & J'Nique Nicole Vocals)

[Special Disc]
1. Alien Manifestation (J'nique Nicole Vocals)
2. Peaceful Sleep
3. Vague Hope (Emi Evans Vocals)
| | |
| --- | --- |
| Released | 2020-04-17 00:00 |
| SKU | XOSTRZZZ58_UK |