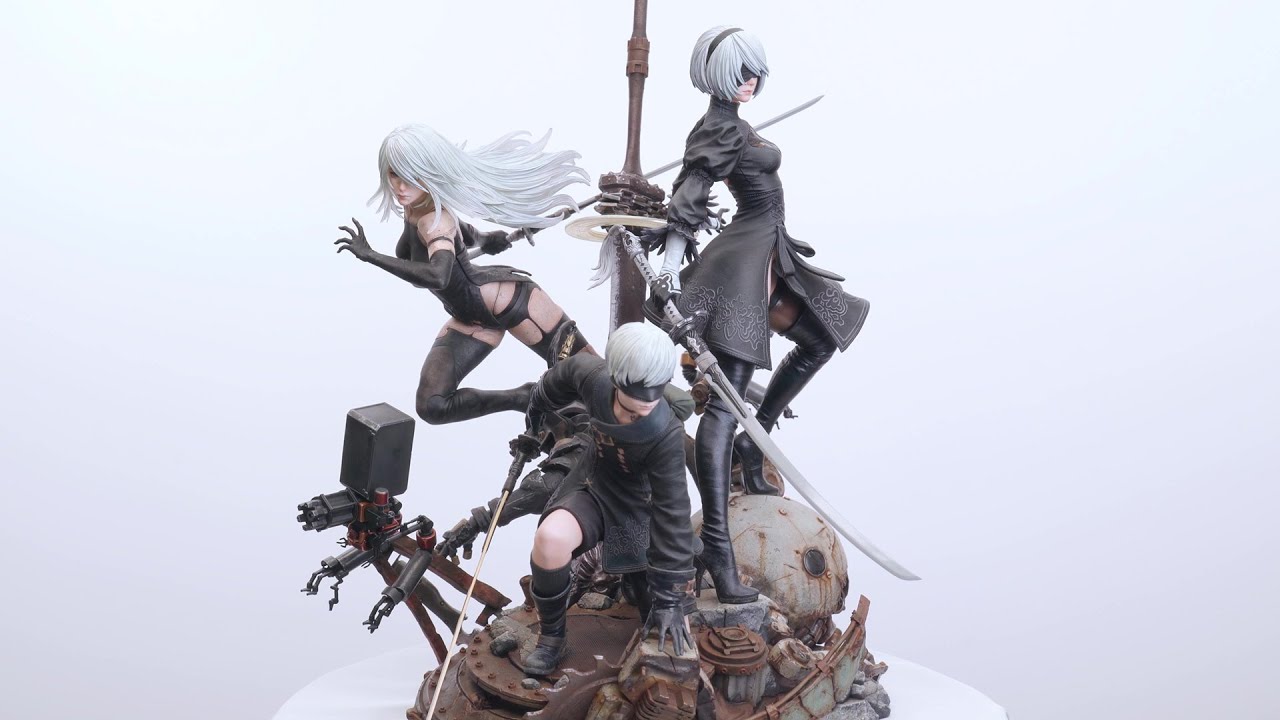 A super three-dimensional fantasy world celebrating the 10th anniversary of the NieR series is brought to you as part of the new high-end collectible brand – SQUARE ENIX MASTERLINE. The first in our collaboration with the Japanese statue maker, Prime 1 Studio, is from the dramatic action RPG masterpiece, NieR:Automata.
This high-end collectible statue brings together the main characters –2B, 9S, and A2– and the NieR:Automata universe all into one piece, with the highlight being the exquisite sculpt that packs in all the charm by precisely recreating everything from the characters to the base. 2B's swappable head piece also enables showcasing her with and without goggles.
We want you to see and feel this three-dimensional world through the dramatic composition brought to life through meticulous modeling found whilst delivering an overwhelming volume, and paintwork that truly draws out the characters' charm.
Product Size
: (
CM
): W 55.7 cm x D 58.16 cm x H 62.23 cm
Release Date
: April 2022
A product sample is shown in the photos and may differ from the actual product.
The colors may look different from the actual product depending on your monitor.
Please note, stock levels will be available on a first come first serve basis in order secure your order for this product.
The product will be shipped as soon as it is ready, and the shipping date could be delayed due to the production schedule.
For safety reasons, we are planning to use ABS for sword parts, or other parts that may be susceptible to damage or may cause injury.
This product will be hand-painted, so there may be differences between individual products.
Specifications are subject to change.
Weight is provided for reference, but there may be some variances to the actual weight.
Due to the weight of this product, please refrain from displaying in full glass display cases or glass shelves as it may become extremely dangerous.
Due to the high value of this product, signature delivery is required on all orders for this item.
Please note, once your order has been placed, this product will be subject to an immediate charge for the value of this item.
Since this is a custom-ordered item, a no-cancellation policy will apply once the order is placed. Please also note that this product is not immediately available but will be shipped to you upon availability.
You must be logged in to your Square Enix Store account to purchase. If you do not have an account, please register for a new account.
© 2017 SQUARE ENIX CO., LTD. All Rights Reserved. 
Swappable head parts – 2B head parts (both with and without Blindfolds)
Title plate