Theatrhythm Final Fantasy Curtain Call - Limited Edition [Nintendo 3DS]
THEATRHYTHM FINAL FANTASY CURTAIN CALL™, a rhythm action game combining classic FINAL FANTASY music with RPG elements, will be released in 2014 exclusively for the Nintendo 3DS™ system.

A sequel to the first rhythm action game released in 2012, THEATRHYTHM FINAL FANTASY® expands on the original in every way, with over three times as many songs and twice as many playable characters as its predecessor.

The sequel also boasts two new game modes: Quest Medley, where you choose various paths through alternating types of sequence, on the way to boss battles and the exciting Versus mode, where players can challenge and compete against friends and other players. The game also includes a number of character customisation and progression elements that the FINAL FANTASY series is renowned for.

Featuring more than 200 songs and 60 playable characters from across the entire FINAL FANTASY® series including FINAL FANTASY VII: Advent Children®, FINAL FANTASY TACTICS® and recently released titles like LIGHTNING RETURNS™: FINAL FANTASY XIII and FINAL FANTASY XIV: A Realm Reborn®, THEATRHYTHM FINAL FANTASY CURTAIN CALL lets players relive their favourite moments from across the epic series, as they tap their way through key FINAL FANTASY events, environments and battle sequences.

'Music is an integral part of the FINAL FANTASY experience that serves as a complement to the gameplay,' said Ichiro Hazama, producer. 'As with the previous title, we envisioned a game where the music takes centre stage and the RPG gameplay enhances that experience. Our fans are definitely in for a treat as they´ll be able to re-experience their favourite songs across the entire FINAL FANTASY catalogue.'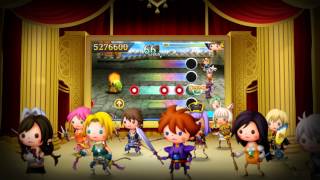 THEATRHYTHM FINAL FANTASY CURTAIN CALL™, a rhythm action game combining classic FINAL FANTASY music with RPG elements, will be released in 2014 exclusively for the Nintendo 3DS™ system.

A sequel to the first rhythm action game released in 2012, THEATRHYTHM FINAL FANTASY® expands on the original in every way, with over three times as many songs and twice as many playable characters as its predecessor.

The sequel also boasts two new game modes: Quest Medley, where you choose various paths through alternating types of sequence, on the way to boss battles and the exciting Versus mode, where players can challenge and compete against friends and other players. The game also includes a number of character customisation and progression elements that the FINAL FANTASY series is renowned for.

Featuring more than 200 songs and 60 playable characters from across the entire FINAL FANTASY® series including FINAL FANTASY VII: Advent Children®, FINAL FANTASY TACTICS® and recently released titles like LIGHTNING RETURNS™: FINAL FANTASY XIII and FINAL FANTASY XIV: A Realm Reborn®, THEATRHYTHM FINAL FANTASY CURTAIN CALL lets players relive their favourite moments from across the epic series, as they tap their way through key FINAL FANTASY events, environments and battle sequences.

'Music is an integral part of the FINAL FANTASY experience that serves as a complement to the gameplay,' said Ichiro Hazama, producer. 'As with the previous title, we envisioned a game where the music takes centre stage and the RPG gameplay enhances that experience. Our fans are definitely in for a treat as they´ll be able to re-experience their favourite songs across the entire FINAL FANTASY catalogue.'


Versus Battle Mode – Players can now compete head-to-head with friends and other users.
Quest Medley Mode – Songs from the vast FINAL FANTASY music catalogue are used as backgrounds to unique quests; players can choose their own routes through various short, medium and long adventures. Players can also share these quests with friends.
New Characters – The game features over 60 characters from across the series, now including Barret (FINAL FANTASY VII) and Yuna (FINAL FANTASY X-2). Characters from spin-offs like Benjamin (FINAL FANTASY MYSTIC QUEST), Ramza (FINAL FANTASY TACTICS) and Zack (CRISIS CORE® -FINAL FANTASY VII-) also appear in this game.
Collecta Crystarium – Clearing songs and winning battles allow players to obtain CollectaCards that boost their character stats.
Nintendo 3DS