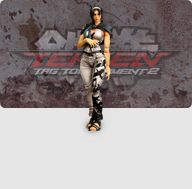 Fists of Legend!
Kazuya Mishima and Jun Kazama from legendary fighting game TEKKEN TAG TOURNAMENT 2, with its gorgeous graphics and smooth controls now appear as PLAY ARTS KAI figures!
Jun Kazama
An ethereal woman whose´ eyes are filled with sadness
 
A black haired woman wearing garments of white.
She is the very image of the Jun Kazama who entered The King of Iron Fist Tournament 2, gracefully employing the flowing techniques of Kazama Ryu classical martial arts.
 
Since The King of Iron Fist Tournament 2, Jun went away to Yakushima to live in peace with Jin, her son by Kazuya Mishima.
15 years later she was attacked by a vengeful warrior deity and has been missing since then.
What could the truth behind this mysterious woman be
Flawlessly recreates Jun´s character, with the soft line of her body, her courageous expression and the distinctive pattern on her clothing.
The cape wrapped around the shoulders is made from a soft material and the shoulder joints themselves are specially articulated so as not to limit the movement of the arms.
The cape and clothing, right down to the shoes have been expertly coloured to bring out their finely detailed patterning.
The waist area has been specially articulated so as not to impede movement and easily allow poses raising the legs.
TEKKEN ™ TAG TOURNAMENT 2 © 2012 NAMCO BANDAI Games Inc.
Dimensions: W80 × D43 × H226mm
Weight: 120g
| | |
| --- | --- |
| Date de sortie | 15-08-13 |
| Genre | PlayArtsKai |
| SKU | XTEKKZZZ01 |