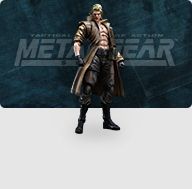 Liquid Snake from the smash hit stealth action game METAL GEAR SOLID now joins the Play Arts Kai range.
The cut of Liquid´s long coat and military fatigues frame his formidable physique and feature deliberate creasing to emphasise the tight fit and bring out the underlying muscle tone.
The figure´s points of articulation, especially on the bare skin areas visible beneath the coat, have been designed to blend seamlessly into the lines of the musculature and give an incredibly natural, dynamic feel.
Liquid´s sinister smirk adds to the reality of his expression with its asymmetry.
The figure includes large scale weapon accessories such as the stinger missile launcher and a handgun, allowing for a wide variety of action poses.
Liquid Snake
A man who looks identical to Solid Snake. Leader of the Foxhound special forces unit and mastermind behind the Shadow Moses incident of 2005.
© Konami Digital Entertainment
Product dimensions: W 130mm x D90mm x H277mm approx.
Weight: 440g approx
Accessories:
Stinger missile launcher
Alternative hands
USP (Handgun)
| | |
| --- | --- |
| Date de sortie | 28-11-13 |
| Editeur : | Konami |
| Genre | PlayArtsKai |
| SKU | XMGSSZZZ17 |